The little bit of stitching I did.
Het weinige borduren dat ik gedaan heb.
Ik heb een hele tijd heel wat minder zin gehad om te bloggen en zelfs om te borduren. Ik zag het gewoon niet meer zitten. Eind januari kreeg ik mijn ontslag, 3 maanden opzeg te doen, februari is m'n oma gestorven, maart was gewoon een rotmaand en april, tjah, aprilse grillen zeker. M'n baas heeft ook grillen, want na me eerst buiten te zetten zijn ze me nu komen vertellen dat ze m'n ontslag intrekken. Blijven dus. Een beetje met gemengde gevoelens. Wat moet ik er op zeggen?
In ieder geval, dit is geen blog om echt te gaan klagen, daar heb ik helemaal geen zin. Dus toon ik wat ik wel gedaan heb. We hebben onze woonkamer geschilderd, de ene kant bleek creme kleur, de andere kant een mooi chocolade bruin. En m'n faerie hangt eindelijk omhoog.
Er is niet zoveel geborduurd, maar een klein beetje aan de Bottom of the Garden. Maar beetje bij beetje komen we er wel. Ik hoop dat het vanaf nu eindelijk eens wat beter mag gaan en ik hoop dat ik ook weer de zin krijg om te gaan borduren.
The light wall, with shelves and faerie statue.
De lichte muur met planken en feeën beeldje.
It's been a while since I have last blogged or stitched, but I didn't felt like it. At the end of januari I got sacked, 3 months of my endterm started, in february my grandmother died, march was like hell and april, well that wasn't too good either. My boss doesn't know what he wants either, cause now they want me to stay. So I'll stay. It's a bit with mixed feelings. But what do I have to rant about?
Anyway, this blog isn't made to rant over and over. So I'll blog about what I've done in the meanwhile. We painted our living more. One side of the wall is in nice cream color, the other side chocolate brown. And the faerie is hanging on the wall.
There hasn't been a lot of stitching, only a little part on the Bottom of the Garden. But stitch by stitch we'll get there. I hope from now on things will get better and that I might get my stitching joy back.
Love, Babs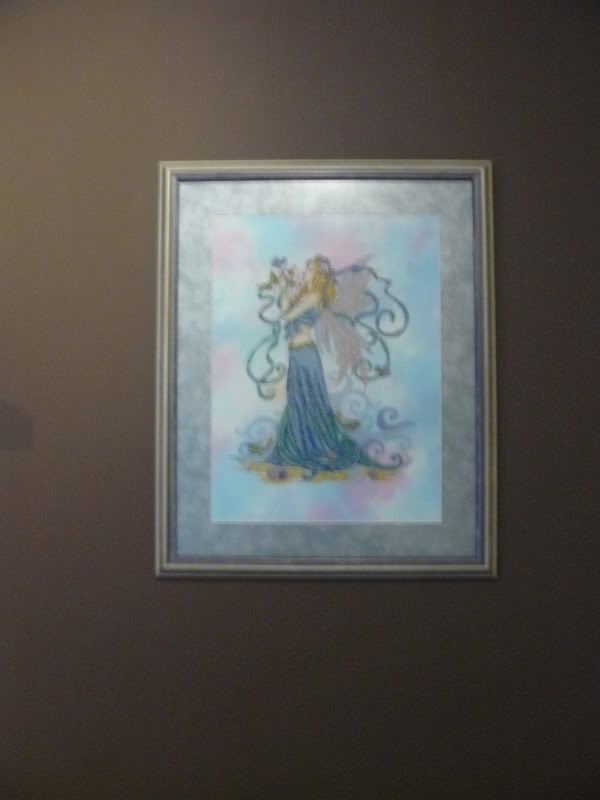 The Summer Faerie, finally on the wall. Look at the chocolate. Yummie
De Summer Faerie, eindelijk aan de muur. Zie je de chocolade? Yummie