We zijn alweer juni en ik heb eventjes niet geupdate. Vandaag moest ik gaan stemmen, maar had veel liever zin om te borduren.
Ik heb eventjes rond gekeken en naar jullie opbergsystemen gekeken. Zo'n mooie craftroom als die van
Cindy
zal ik wel niet kunnen maken. Ik ben zo jaloers op haar mooie craftroom en ooit maak ik er ook zo eentje ;-). Nee, mijn opbergsysteem is nog maar heel klein en bestaat uit 1 doosje. En dit weekend heb ik me er eens aangezet om het garen van m'n Queen of Hearts er in op te bergen. Je ziet het, ik heb nog niet zoveel garen, maar dat komt wel met meer werkjes.
We are June allready and there haven't been any updates lately. Today I had to go vote, but I rather wanted to do some stitching.
I also checked around and watched your organisation systems. A craftroom like Cindy's I won't be able to make. I'm so jealous of her craftroom. But one day, I'll make myself one too. No, my organisationsystem is still very little and only exists of one box with some thread. And this weekend I worked a bit on it and placed all the thread on bobbins in the box. You see it, I don't have a lot of thread yet, but it will come once I make more stuff.
De ring op de foto bevat de vier kleurtjes die op dit moment in m'n werkje zitten. Handig om overal mee te sleuren.
The ring on the picture has the four colors on it that I'm working with currently. Handy to drag everywhere with me.

Ik was ook vergeten om m'n TUSAL te plaatsen. Het garen gaat traag, maar de papiertjes gaan best snel hoor!!!
Last week I forgot to place an update of my TUSAL. The threads go very slow, but the skeins are going quick!!! Mostly because of my new organisation method ;-)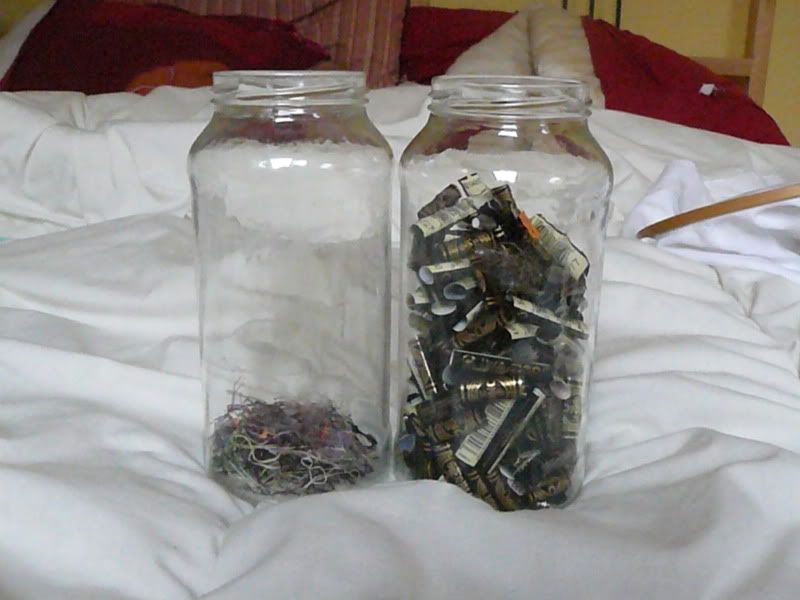 En waar de meesten op wachten denk ik, mijn Queen of Hearts...
And I guess everyone is waiting for this... my Queen of Hearts