Zonder Nina's draden zou dit belange zo mooi niet zijn... Het lag hier al een tijdje, half geborduurd, en nu heb ik het eindelijk afgewerkt. Het is de eerste keer dat ik met speciale steken geborduurd heb en op zo'n kleine count.
Without Nina's threads, it wouldn't be half as beautifull. It was lying around for a while now, half stitched and today I decided to finish it. It's the first time I stitched special stitches and on such a small count.
The Drawn Thread ~ Carnelian Rose
Stof/Fabric: 32 count Murano
Draad/Threads: Nina's "Pine tree", "Caribbean Blue" and "Rusty Red"
Mill Hill seed beads
Tijdens het vullen met rijst en lavendel...
While filling with rice and lavender...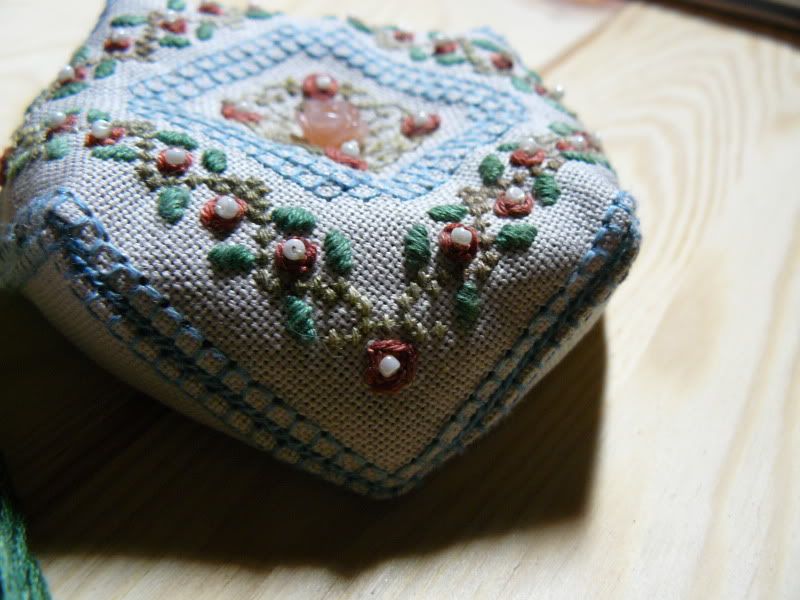 Close up van het midden met de Carnelian Rose, een handgesneden gemstone.
Close up off the center with the Carnelian Rose, a handcutted gemstone.
Dit is the originele foto van het patroon.
This is the original picture of the pattern.
The Drawn Thread ~ Carnelian Rose