Het is een superdrukke periode hier, vooral op het werk. Veel zieken en afwezigen, sowieso al veel te weinig personeel en dus draaien we maar extra uren. Vaak zonder vergoeding of zo, maar ja, we moeten wel, de zorgsector kan niet zonder. 's Avonds kom ik doodmoe thuis en heb nog amper zin en tijd om te borduren, laat staan om te bloggen. Eten maken, douchen, wat poetsen en dan vaak gewoon m'n bed in. Mensen op msn zullen dit wel gemerkt hebben dat ik er amper ben.
Dus heb ik jammer genoeg ook er niet aan gedacht om een foto te maken van de giveaway die ik van
Melissa
gekregen heb. Sorry sorry sorry. Het was dus haar Halloween giveaway en die kwam rond 22 november aan. Ik heb er nog niet aan geborduurd, maar heb dus in een maand bijna niks gedaan. Pas vandaag heb ik eindelijk weer een stukje geborduurd. Meis, ik maak het goed, er komt een pakje naar jou aan ook hoor.
It's been a super busy period here, mostly at work. Lots of people ill and absent, way to less staff to work with and so we work extra hours. Mostly not being paid for it, but we have to, healthcare won't stop. At the evenings I get home, dead tired and hardly having time or even feeling to stitch or blog. Making food, showering, some housecleaning and off to bed. People on msn would have noticed this allready I guess.
So unfortunatly I haven't made a picture of
Melissa's
giveaway yet. I'm so sorry, really sorry, Melissa. It was her Halloween giveaway and it arrived here at the 22th of November. I haven't stitched it yet, but I haven't stitched at all in a month. I just started stitching again today. Girl, I'm going to make it up to you, there is something arriving to you aswell.
En deze staat ook al even te wachten op een foto... de Summer Fairy, ingelijst en al.
And this one is waiting for a pic too... the Summer Fairy, framed in all her glory.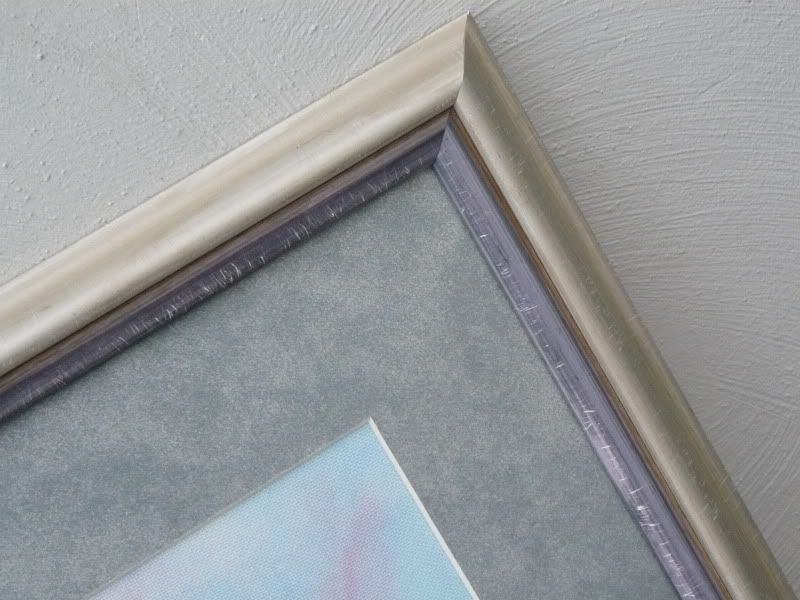 De lijst die ik gekozen heb is een zilveren lijst, met kleine krasjes er op en het binnenste stuk heeft een blauwtint. Het goede hier aan is dat als ik de andere van de fairy reeks maak, het binnenste stukje veranderd kan worden. Voor de herfst-fairy kan ik dus oranje of groen kiezen, voor de winter-fairy wit,...
The frame I picked is a silver one, with little scars on it, and the inner piece of the frame has a shine of blue. The nice thing about this frame is that there are several combinations, so if I make the autumn-fairy I can choose for orange or green, the winter one could become white and so on...
Ik hoop weer wat meer tijd te kunnen maken voor te borduren en te bloggen en jullie allemaal terug mag zien.
I hope to have some more time to stitch and blog and to see you al back.