Al een heel tijdje ben ik er aan bezig aan dit werkje. Ik wou weer eens anders dan anders doen en had daarmee besloten om het in plaats van over twee draadjes over eentje te gaan doen en een minatuurtje te maken. Op 32 count evenweave dan nog... Jullie snappen vast ook wel dat je na een tijdje gek wordt van die kleine steekjes, ik kon ze wel nog borduren zonder extra licht maar het blijft toch klein. Na het eerste hartje en bloemetje had ik het patroon niet meer nodig, ik kende het al van buiten, ik heb een fotografisch geheugen wat heel handig is bij borduren.
Het patroontje is van Tralala, Bienvenue Carrés Rouges en is geborduurd met Nina's handgeverfde garens, ik denk Rose Tea. Nu moeten er aan beide kanten van het huisje nog bedeltjes, maar de meeste zijn zo groot dat ze er niet tussen passen, mag maar 15 mm hoog zijn en 9 mm breed, de bloemen vond ik niet zo mooi dus heb ik ze ook niet geborduurd.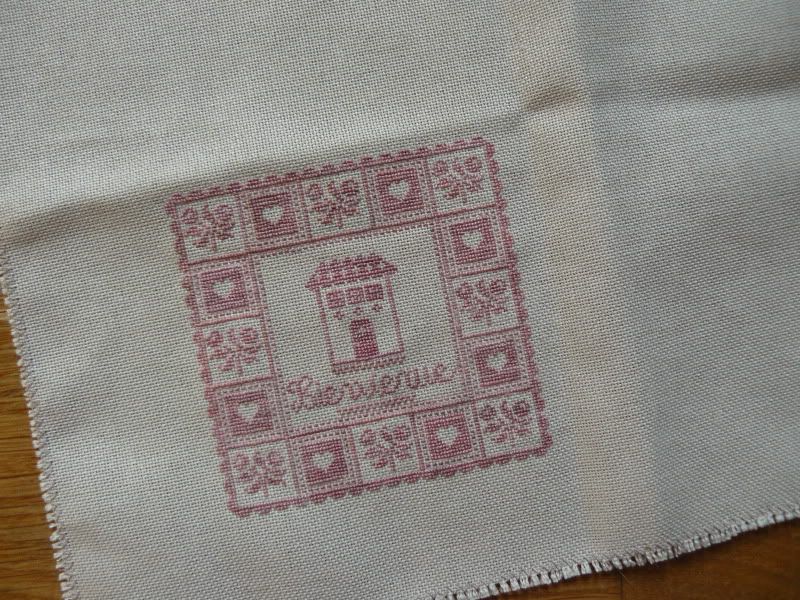 It's been a while since I started this and I wanted to something else again then wat is described on the pattern and decided to stitch it over 1 thread instead on over 2. On 32 count evenweave... You could guess I was getting crazy after a while from those little stitches. I could still stitch them without extra light but they are still tiny stitches. After the first heart and flower I could the pattern aside, I allready knew how to stitch it then, I have a photographic memory which is very handy when stitching.
The pattern is from Tralala, called Bievenu Carrés Rouges en is stitched with Nina's handdyed threads, I think it's Rose Tea. Now I need to add some silver embelisments on both sides of the house, but most of them are too big, it's only allowed 15 mm high and 9 mm wide. I didn't liked the flowers, so I haven't stitched them and want embelishments instead.
En ik moet waarschijnlijk op zoek naar een nieuwe slaapplaats voor vanavond, want ik denk niet dat ik m'n bed nog terug krijg...
And I need to find a new sleepingplace for tonight, cause I don't think I will get my bed back...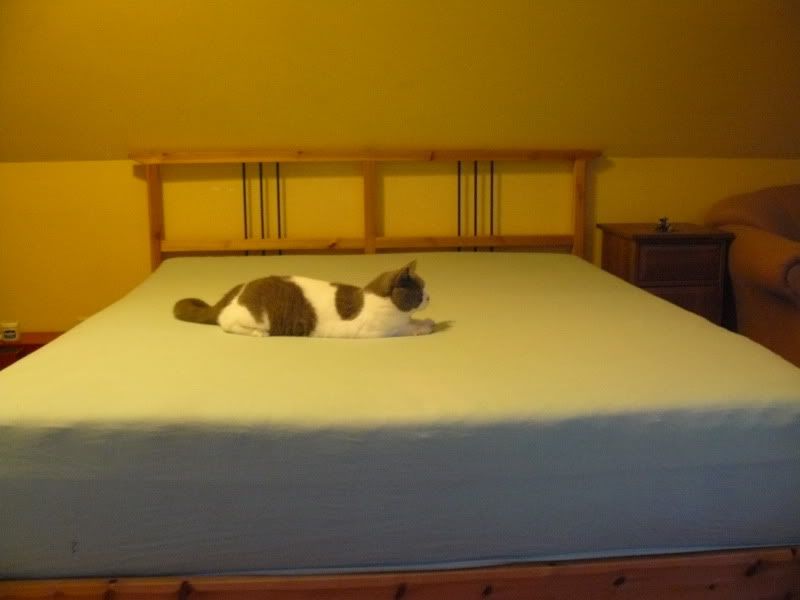 Love, Babs