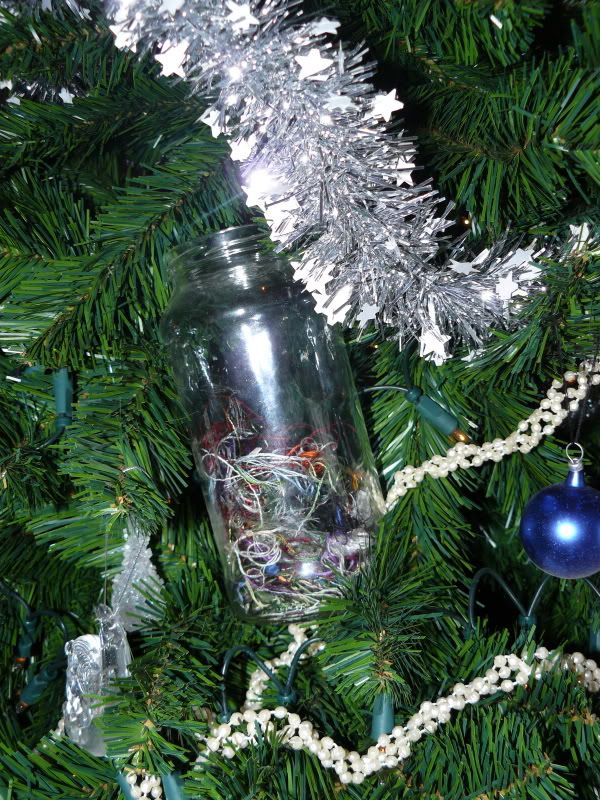 Het is de laatste keer dat ik m'n potje hier op zet voor dit jaar, maar niet getreurd,
Yoyo start een nieuwe
TUSAL in 2010
. Je mag je potje van dit jaar ook meenemen naar volgend jaar, dus ik mag verder opvullen. ;-) Hij is niet zo vol, maar er is dus nog een jaartje. Hier vind je m'n potje in de kerstboom en terwijl ik er een foto van nam had ik de hele tijd schrik dat ie op de grond zou vallen. Gelukkig voor mij is hij heel gebleven. Ik ben nu alle TUSAL's van dit jaar aan het bekijken en er zitten er leuke bij, hoor.
It's the last time for this year I put my little jar on my blog, but no sadness, cause Yoyo is starting a new
TUSAL in 2010
. You can still use the TUSAL you are making this year, so I can still add some orts to it. ;-) Here you find my jar in the Christmass tree and while I was taking a picture I was so scared it would drop on the floor. Luckely for me, it didn't fell. Now I'm watching all TUSAL's of this year and there are some nice ones with it.