Gisteren ben ik op zoek gegaan naar Mollie Makes, een nieuw UK-magazine dat sinds ik er over gelezen had op het internet gewoon wou hebben. Ik vond het tweede exemplaar in een magazinewinkel in Antwerpen, enkel rijden bijna 90 kilometer van thuis. Mama en ik zouden samen eventueel een abonnement nemen, maar na samen het blad bekeken te hebben, neen, dankje. Er zit meer reclame in dan wat anders, een hoop reportages die je naar winkels tonen in de UK en die al echt niet mijn stijl zijn en dan als er wat in zit om te maken, vind ik het echt niet mooi. Vilten vosjes, een ring van vilt, een parasolletje van papier op een tandenprikker... allemaal heel leuk en schattig, voor een tiener. Maar nee, echt niks voor mij.
Gelukkig hadden ze daar een Joan Eliott booklet, die in de UK volledig uitverkocht was. En omdat ik zo'n fan ben van haar werken heeft dit toch wat de trip goed gemaakt. Ik had die daar echt niet verwacht :-)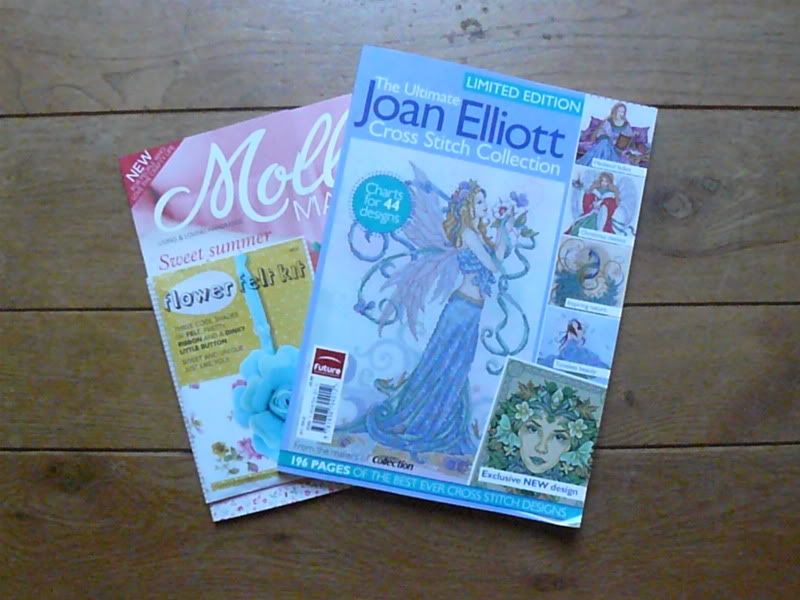 Yesterday I went looking for Mollie Makes, a new UK-magazine about handcrafts that I wished to have since I saw things about it on the internet. I found the second issue in a store in Antwerpen, driving almost 90 kilometers away from home. Mom and I would take a subriscription if we liked it. Well, that's not going to happen. We saw the magazine and no thank you. There is more advertising in it then something else, a lot of decoration publi's which aren't my style at all. And the making stuff? Well, foxes from felt, a ring from felt and a little parasol from paper for cocktails... very nice and cute, for a teenager. But no, nothing for me.
Luckely I found something that I didn't expected to see, cause in the UK it's sold out. Since I enjoy Joan Elliott's works I had to buy this, so that made my trip still good.
Love, Babs