Gisteren ben ik naar een Handwerk en Wolbeurs geweest in Rijswijk, Nederland. Ze was samen met het Crea Weekend, maar eerlijk gezegd viel ze tegen. De organisatie pakte uit met een Handwerk en Wolbeurs, maar 7 kramen handwerk, noem ik geen beurs. Dat zijn een paar standjes. Er stonden hopen kramen op het Crea Weekend voor scrapbooking, juwelen en kaartjes, maar jammer genoeg interesseert me dat geen moer. Ze hadden ook niet de dingen waar ik speciaal voor naar Nederland reisde.
Gelukkig heb ik er een paar leuke mensen ontmoet die ik ken van de Borduursite, en heeft dat m'n bijna 5 uur durende heenreis (en ja, ik moest ook nog die afstand terug) goed gemaakt. Dankjewel Sanne, Renate, Marie-Anne, Sylvia en Esther voor de leuke dag.
Ik heb ook een paar leuke dingen gekocht. Kijk maar even lekker mee.
Yesterday I went to the Handwerk and Wolbeurs (a fair for lace, knitting, stitching and patchwork) in Rijswijk, the Netherlands. It was together with the Creaweekend, but honestly, it was a real disaster. The organisation made adds with "special handwork fair for fabric and yarns" but 7 stands, I don't call a fair. There we're over 300 stands with scrapbooking, cardmaking and jewellery, and sorry for the word, I don't give a damn about those. I love stitching, and my mom loves patchwork. They didn't even had the things I traveled for to the Netherlands.
Luckely for me I met some nice people I know from the stitchingsite I'm on, and that made my almost 5 hour traintravel good. (and I had to travel back again, offcourse, so almost 10 hours on the train.) Thank you Sanne, Renate, Marie-Anne, Sylvia and Esther for the nice day.
I also bought some nice things, take a look with me.
Papermania bag, A few coupons of fabric, needles, some patterns, paper, some Dinky Dyes thread, a few old magazines.
Papermania tas, paar coupons stof, naalden, patronen, papier, Dinky Dyes garen en een paar oude borduurbladen.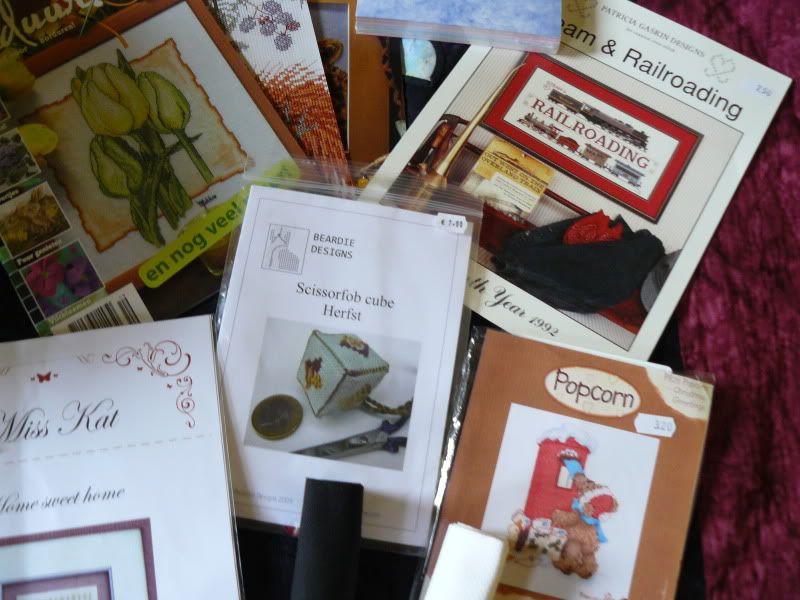 De scissorsfob cube is inclusief stof, garen en schaartje!!!!
The scissorsfob cube has fabric, threads and scissors included!!!!

Dit patroon komt van een Belgische ontwerpster, volgende week hoor je er meer van in een apart blogbericht.
This pattern is from a Belgian designer, next week I'll tell you more about her in a seperate blog entry.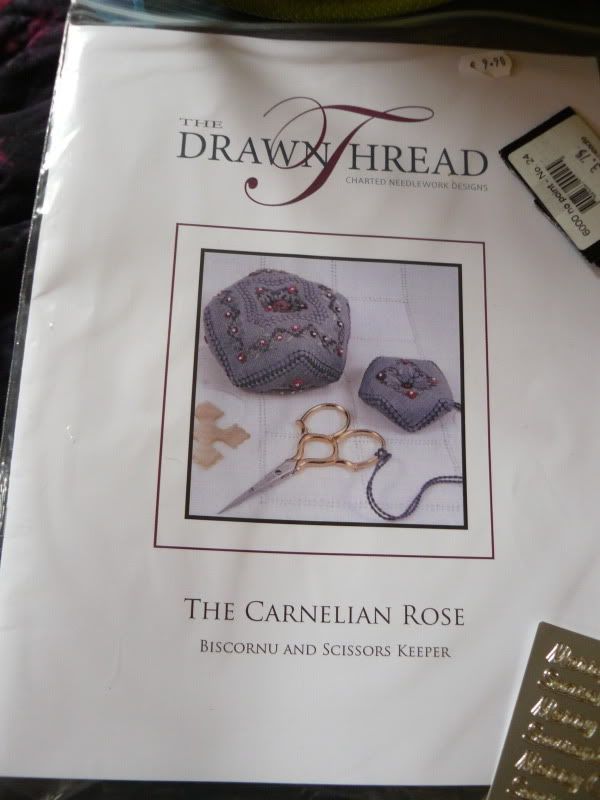 En dit is een biscornu patroon van The Dawn Thread met Dinky Dyes garen.
And this a biscornu pattern from The Dawn Thread with Dinky Dyes Thread.
In ander nieuws, vanaf morgen begin ik op m'n nieuwe werk. Ik start dan als zorgkundige in een rusthuis in de buurt. Ik ben wel een beetje zenuwachtig, want na m'n opleiding is dit m'n eerst vaste baan.
Other news then, tomorrow I start a new job. Then I'll start as a nurse in a home for eldery people in the neighbourhood. I'm a bit nervous, cause after my course, this is my first real job.
Take care all, and have a nice day.
Groetjes, en een prettige dag