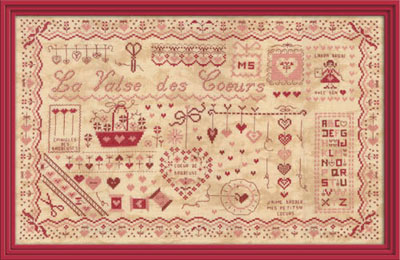 Toen ik laatst naar de beurs ging en een patroon van Miss Kat meehad beloofde ik jullie meer over deze Belgische ontwerpster. Ondertussen ben ik al lekker gestart met het patroontje maar dat krijgen jullie later te zien.
Marie Suarez en Katrin Laeremans zijn 2 Belgische ontwerpsters van borduurpatronen. Ze hebben vooral samplers in hun aanbod, maar er zijn ook andere prachtige patronen van hun hand. Ik was op de beurs meteen verkocht en nam meteen het patroon "Home Sweet Home" mee. De rest volgt denk ik later. Ze werken vooral met Presencia garen, maar de omnummering naar DMC staat er steeds bij.
Wie graag meer patronen en zo wil zien kan kijken op hun
website
. Ze is wel in het Frans, maar patronen kijken kan in elke taal.
When I went to the fair I promised you more about Miss Kat, a belgian designer. In the meanwhile I'm almost halfway of her pattern I bought on the fair.
Marie Suarez and Katrin Laeremans are 2 Belgian needlepoint designers. Their patterns are very nice. They have a lot of samplers but also some other very pretty patterns. At the fair it was love at first sight and I bought "Home Sweet Home" straight away. I will buy more later. They work a lot with Presencia threads but on the patterns you also find the colors in DMC.
If you want to see more patterns, take a look at their website. It's in French, but watching patterns can be done in any language.