Weer wat geborduurd aan de Summer Fairy. De golven zijn klaar en zometeen begin ik aan de schelpen en dan borduur ik het strand. En dan komt m'n favo werk -sarcastisch- de stiksteken.
Stitched a bit more on the Summer Fairy. The waves are ready and in a few moments I start the shells and after that it's the beach. After that my favourite work -sarcastic- comes up, the backstitches.
En vorige week dinsdag zijn bij mama blogvriendinnen langs geweest. We hebben beiden wat moois gekregen, maar ik heb er nog geen foto's van, die volgen volgende week. Ik heb het bij mama laten staan omdat hier een "alles is speelgoed"-juffrouw rondloopt. Je raadt waarschijnlijk al wie, ons Nelle.
And last tuesday some blogfriends visited at my moms. Me and my mom both got a lovely gift, but I don't pictures yet, those are for next week. I kept it safe, because here is a "everything is toys"-miss around. You guessed it, I think, our Nelle.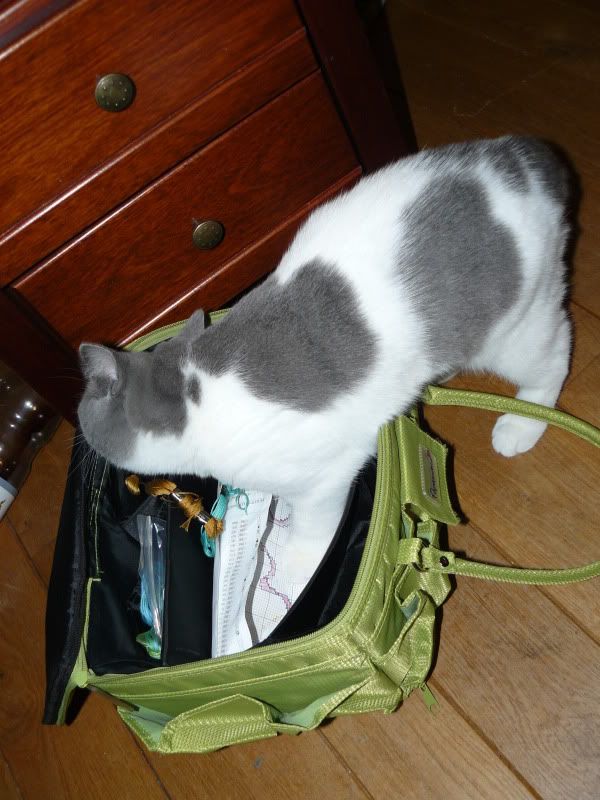 Hier heeft ze m'n borduurtas aangeslagen.
Here she turned my stitching bag into a nice toy.