Vorig jaar heb ik de Summer Fairy van Joan Eliott uit de Cross Stitch Collection geborduurd, dit jaar wil ik er zeker nog eentje borduren. Ook de godinnen vind ik prachtig, maar om het mezelf makkelijk te maken (en omdat hier Kreinik, Mill Hill beads en zo niet echt verkrijgbaar zijn) wacht ik tot Polstitches de rechten heeft om het volledige pakket te verkopen. Dus voorlopig enkel en alleen de fairies. Polstitches maakt prachtige handgeverfde stoffen, die ook in het magazine staan, en na 6 of 7 maanden mogen zij een volledig pakket met patroon, stof, DMC, Kreinik en Mill Hill beads verkopen. Het mag misschien een luie manier zijn, of misschien erg omdat ik wacht tot ze alles uitgebracht hebben, maar ik vind het beter zo. Ik bestel toch sowieso de stof bij Polstitches. Minder verzendingskosten ook.
Trouwens, ik heb vandaag ook mijn abonnement op de Cross Stitch Collection vernieuwd, dit keer voor 2 jaar.
Last year I stitch Joan Eliott's Summer fairy from the Cross Stitch Collection, this year I want to stitch another one. The goddesses are lovely aswell, but to make it easy for myself (en because Kreinik and Mill Hill beads aren't really sold here) I wait till Polstitches has the rights to kit them up. So for now, just the fairies will do. Polstitches makes very nice handdyed fabrics, which are used in the magazine aswell, and after 6 or 7 months they have the rights to sell a full kit with pattern, fabric, DMC, Kreinik and Mill Hill beads. It might be a lazy way, or bad that I have to wait till they are allowed to, but I like it better this way. I order the fabrics with them anyway. And the postage costs are less aswell.
By the way, I renewed my subscription for the Cross Stitch Collection aswell, this time for 2 years.
Wat is nu het probleem? Ik kan niet kiezen welke de volgende wordt, dus welke zou jij kiezen?
What's the problem then? I can't choose which one to be next, so which one would you choose?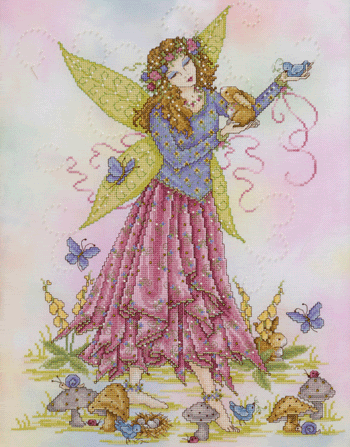 Will it be Spring...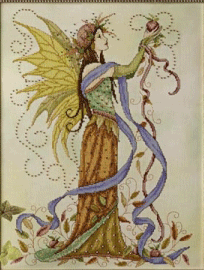 Autumn...
or Winter?
Love, Babs