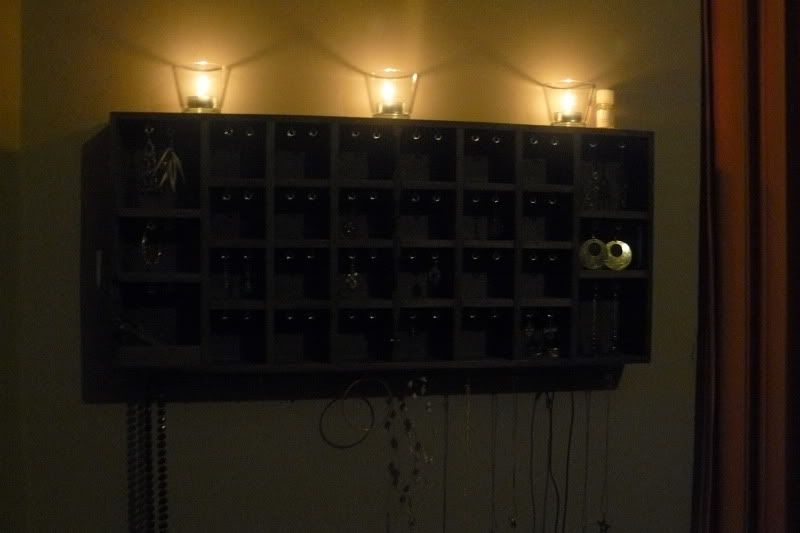 Een oom van mij heeft dit een tijdje geleden gemaakt om m'n juwelen in op te bergen. Het is gebasseerd op van die oude letterbakken van drukkers, maar die kon ik jammer genoeg niet vinden. En de juwelenopbergers die al gemaakt zijn door anderen zijn me jammer genoeg een beetje te prijzig. Hij is een schrijnwerker, dus het resultaat mag er echt wel zijn. En nu hangt het eindelijk op. Heel erg veel juwelen heb ik niet, maar ik ben wel verzot op oorringen.
Heel van m'n oorringen zijn trouwens "goedkope prullen" zoals velen zouden zeggen, omdat ze vooral uit winkels als C&A en SIX komen, maar ik heb liever een heel aantal verschillende oorringen waarmee ik kan afwisselen dan zo 1 of 2 hele dure van bij de juwelier.
An uncle of me made this a while ago to store my jewelry in. It's based on those old letterboxes from printing, but I couldn't find them. And the storages that are made from them by other people are it bit too expensive for my wallet. He is a woodworker, so the result is stunning. And now it finally has a place on the wall. I don't have alot of jewellry, but I'm absolutly loving earrings.
A lot of my earrings are "cheap junk" like a lot would say, because I get them mostly from shops like C&A and SIX, but I rather have a lot off different earrings so I can switch a lot than one or two very expensive from a jewelstore.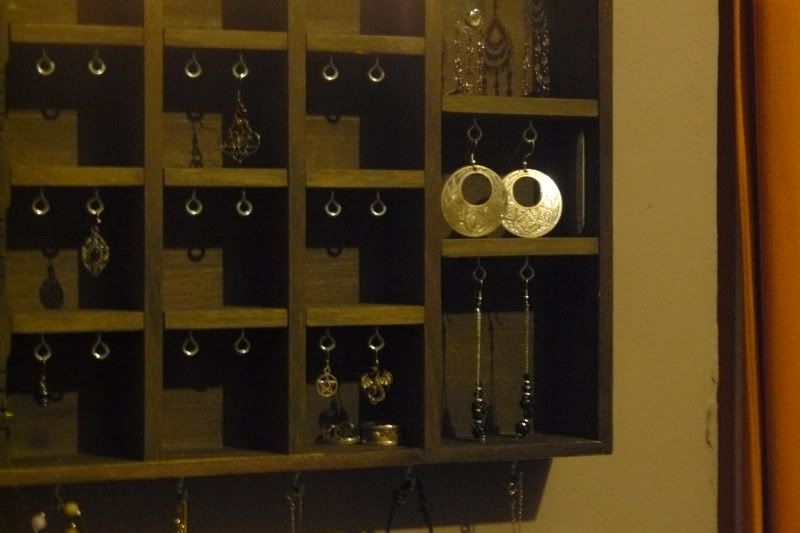 Love, Babs